We serve a community of dedicated amateur family researchers. Anyone who hasn't ever dabbled in genealogical research can imagine the relief, joy and great exultation that the genealogist experiences on having made a breakthrough, or finds the final link to complete a family line. It truly is the experience of a lifetime.
Families have migrated far and wide within South Africa. Later descendants of families that arrived in South Africa as early as 1676 trekked North and East, some ending in the present day Namibia and or even further afield to Angola and Kenya. Tracing their footsteps, opens up new worlds, and gives one insight into cultural, political and the religious motivation for these great treks.
The Genealogical Society of South Africa (GSSA) that was established in 1964 has twelve branches of which eleven are land based and one which is an electronic branch catering for members worldwide, via the internet. Each branch arranges its own activities and meets all year round apart from December and January. More information can be gleaned by visiting the branch pages of www.genza.org.za. Members become close friends and are more than happy to assist newcomers with their research. Many a dead end has been resolved by discussing the issue with a fellow genealogist.

In the latter stages of the 17th century and in the early stages of the 18th century the dominant population groups in the Eastern Cape area were the white cattle farmers and the black cattle farmers. Both groups were constantly looking for more land on which their cattle could graze. These opposing groups clashed in a series of skirmishes or wars.
Colonel John Graham was the originator of the plan to settle a large group of Scottish Highlanders in this area. He was in charge of the British troops at a fort in the area. The fort later becomes Grahams Town. The plan was not implemented due to the fact that Britain was still involved in the war with Europe and emigration schemes were not priorities.
In 1817 captain Benjamin Moodie brought 50 young Scottish men who were artisans to the Cape as indentured workers. Later on he brought out a further 150 men. Cape citizens bought the contracts of the first group of artisans however some members of the second group absconded; thus leaving captain Moodie with a financial loss. In the final analysis the Cape gained 200 much needed artisans.
Peter Tait tried to emulate Moodie's model but only managed to recruit 30 settlers.
On 22 April 1819 Xhosa Chief Mdushane attacked Grahams town with 10 000 warriors and overran the settlement.
This attack as well as the successful settlement of the Moodie settlers motivated the authorities at the Cape to write an appeal to Lord Bathurst to implement a settler scheme.
The end of the European war brought misery to the British population due to inflation, unemployment and the general stagnation of the economy. These miserable conditions lead to food riots in London in May 1819.
These riots in London added pressure to the then Tory government to consider an emigration scheme to the Cape.
The Archive Crawl

****click on the image for more details****
Rhino Project - 1972 Voters Roll

This email address is being protected from spambots. You need JavaScript enabled to view it.
To download an Order Form click here
Should you wish to still want to sponsor an entire book @ R350.00 this option is still available.
To download a copy of the Index and the Order Form for this option click here
Die Familia / Beste Artikel 2018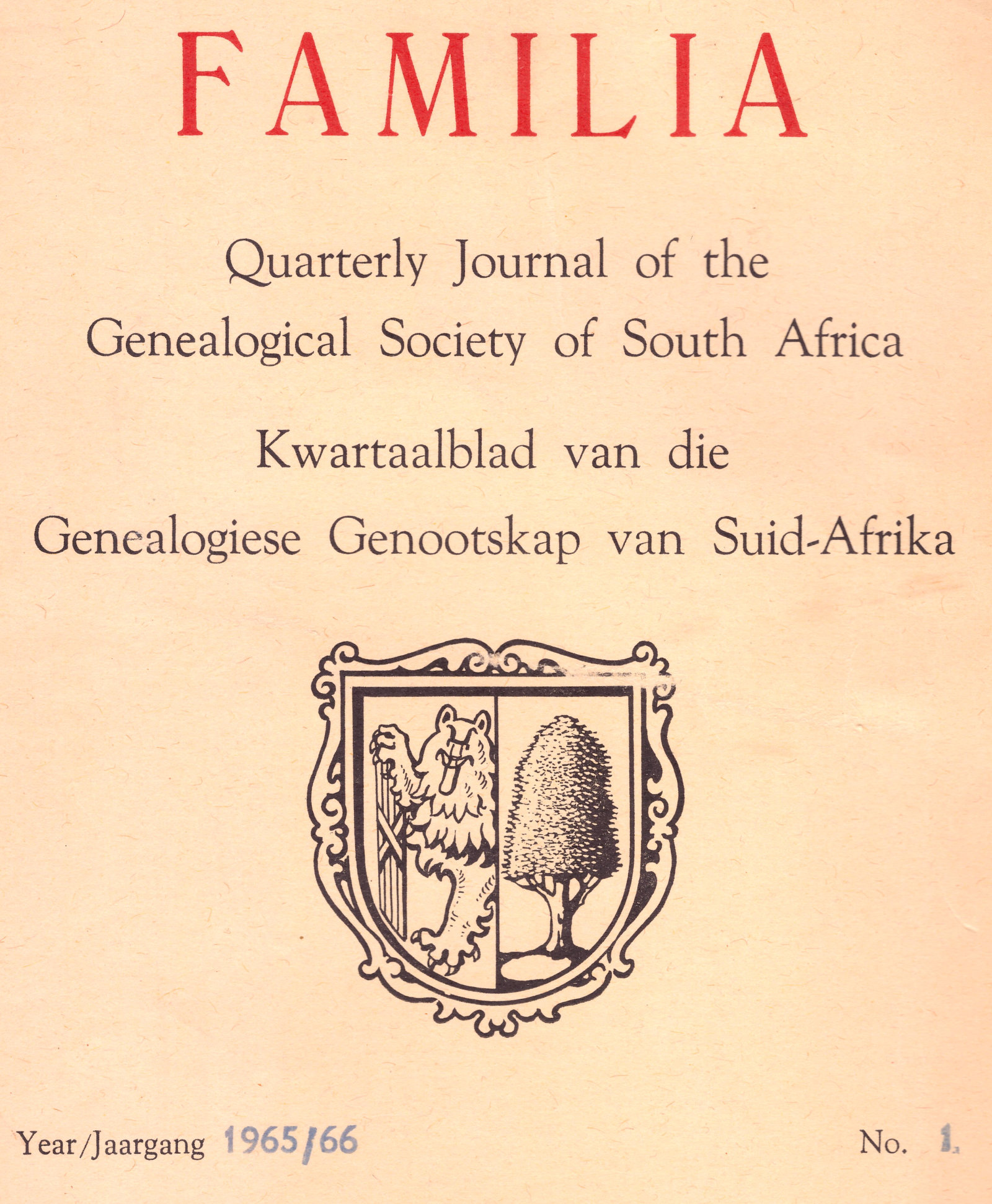 Die Familia is die Kwartaalblad van die Genealogiese Genootskap van Suid Afrika. Op die foto hierbo kan die eerste buiteblad van die Familia wat gedurende 1965/66 gepubliseer is, gesien word. Die Noord-Transvaal Tak van die GGSA stel sedert die vroeë 2000 jaarliks 'n prys beskikbaar vir die beste artikel wat gedurende 'n bepaalde jaar publiseer is.Die kriteria waaraan so 'n artikel moet voldoen sluit ondermeer die volgende in:
• Lewer die artikel 'n wesenlike bydrae tot ons genealogiese kennis, m.a.w. is dit nuwe inligting?
• Is die artikel professioneel opgestel met goeie bronverwysings en so meer?
• Lees die artikel lekker, is die aanbieding interessant, boeiend en word daar 'n goeie balans tussen leesbaarheid en akademiese korrektheid gehandhaaf?
Die kommentaar van die paneel: Dis 'n goed taalversorgde artikel wat lekker lees en ryklik met foto's geïllustreer is en wat nuwe inligting oor die familie bevat. Die skrywer se bronneverwysings beantwoord aan bibliografiese vereistes en die genealogiese notasie dié wat deur Familia aanvaar word. Behalwe dat dit aan al die kriteria soos verlang voldoen, is dit een van die min artikels wat bronne volgens navorsingskriteria voorsien, nl. dat mens dit kan opvolg EN kontroleer.
In 2018 is die beste artikel in Familia toegedig aan Charlie Els vir sy artikel, Die Verstoteling - Een van die be beoordelaars het die volgende resensie ge lewer:
"Die tema van hierdie artikel is verfrissend oorspronklik en die skryftrant hou die leser se aandag gevange. Hoewel die tema van melaatsheid beskou word in die konteks van die skrywer se 'verlore' familielid, word ook die oorsaak van die siektetoestand, die oorsprong van die gepaardgaande stigma en die wyer implikasies vir geaffekteerde indiwidue en hul families deur die eeue heen in detail en met empatie hanteer.
Die skrywer maak die soekende genealoog indirek bewus van nog 'n moontlike bron waar 'n afwesige, verlore of verdwene familielid gesoek kan word – die rekords van melaatheidsheidshospitale, psigiatriese fasiliteite of soortgelyke instansies – waaraan menige genealoog nog nooit aan gedink het as 'n soekplek nie. Die genealoog word ook subtiel uitgedaag om alle inligting te verifieer deur primêre bronne te konsulteer, om sodoende óf verkeerde aannames t.o.v. die sterfplek en oorsaak van dood van 'n person óf doelbewuste foutiewe inligting wat deur vorige generasies gegenereer is, in 'n poging om gewaande skandes of stigmas te verdoesel, uit te snuffel."
Klik hier om die artikel te lees
Dit is wat jy kan verwag om op jou reis te vind sodra die gogga van familienavorsing jou byt!