2016 NUK/NEC
President van die GGSA


Simon du PlooySimon du Plooy is op 2 Jan 1951 as derde seun (en een jonger suster) gebore te Bethulie in die Suid-Vrystaat waar sy ouers (Simon Johannes Du Plooy & Maria Cornelia Wiegand) op die familieplaas Brakfontein (tussen die sameloop van die Oranje & Caledonriviere geboer het. Hy ontvang sy skoolopleiding aan die Hoërskool Pellissier op Bethulie, daarna weermag en vanaf 1971-1976 ingeskryf vir 'n B.Sc graad in Bourekenkunde aan die UOVS in Bloemfontein. Hy was egter nooit in 'n profesionele Bourekenaarspraktyk werksaam nie maar het die meer praktiese rigting verkies en reeds as student by 'n boukontrakteur begin werk. Op universiteit ontmoet hy sy latere eggenoot Chrisda Barnard en tussen klasdraf, werk en kuier was daar ook nog tyd vir ontspanning en in 1974-75 draf vir hy vir Kovsies se eerste rugbyspan uit. In 1977 het hy na Potchefstroom verhuis en stig in 1988 saam met 'n vriend 'n konstruksiemaatskappy wat tot 2012 aktief was. Na die onteiening van die plaas vir die Gariepdamskema het sy pa, ook Simon (1911-1982), 'n register van die eerste eienaar, Simon Johannes du Plooy (1805-1885) se nageslag saamgestel. Dit het sy belangstelling geprikkel en in 1983 sluit hy by GGSA aan. Sy ma was 'n kleindogter van 'n Duitse immigrant Heinrich Wiegand (1839-1901) en sy eerste werk was 'n publikasie oor die Wiegand-familie wat in 1987 verskyn het. Tans werk hy saam met sy vangenoot Andre du Plooy op die Du Plooy familie en fokus op die hele nageslag van Simon Pieters Plooijer x Catharina Koopman hoewel die ander du Plooy familie (Cornelis nageslag) se data ook aangeteken word – met erkening aan Herman du Plooy wat 'n stewige basis daargestel het.
Die koms van internet se gevolg was dat hy op die gesprekforum Genforum (later SAGenealogie & Buitenposten) die GGSA takke Wes-Gauteng- en Vaaldriehoek se byeenkoms-uitnodigings gesien en ook bygewoon het. Met hulp van die plaaslike tak van die Stigting Simon van der Stel (deesdae die Erfenisstigting) was hy in 2004 betrokke by die stigting van 'n genealogie tak vir die Westransvaalse platteland, paslik genoem GGSA Noordwes. Chrisda sluit na hulle troue in 1978 by hom aan in Potchefstroom en hulle het twee kinders: Simon getroud met Mahrne Grové en Daniella getroud met Cornel van Heerden.
Visie-President
Frederik Jacobus (of te wel Ferdie) van Wyk geb 3 Julie 1942 in Pretoria en gedoop op 26 Aug 1942 in die Gereformeerde Kerk Innesdal, dieselfde kerk waar sy ma en pa in 1940 getroud is. Hy is getroud met Ina Susara du Plessis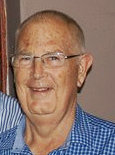 Ferdie van Wykgeb 6 Nov 1943 in Auckland Park, Johannesburg. Die troudatum is 9 Julie 1966 in die Gereformeerde Kerk Kaapstad. Ferdie en Ina het twee dogters en 'n seun Miems, Dolf en Ilonka. Hy het sy laerskooldae in Beaufort-Wes deurgebring en daarna aan die Hoër Seunskool Helpmekaar in Johannesburg einde 1960 matrikuleer. Hy het aan die Militêre Akademie op Saldanha studeer en gradueer in Nov 1964. Ina het as verpleegsuster kwalifiseer by die Groote Schuur Hospitaal en later haar B.Cur aan Unisa voltooi. Kort na die huwelik het hul vertrek na Walvisbaai waar hy aan 2SAI Bataljongroep verbonde was. Daarna Potchefstroom toe, Pretoria toe en weer Potchefstroom toe. Hy was van Jan 1976 tot Des 1979 bevelvoerder van 14 Veld-regiment op Potchefstroom. Daarna is hy na die Leërhoofkwartier verplaas en het gevorder tot die rang van Brigadier. Daarna het hy hom in die rekenaar wêreld begeef. Eers hard probeer om 'n rekenaar besigheid aa die lewe te hou en daarna weer vir 'n baas gewerk waar hy met herwinning van data van rekenaar hardeskywe betrokke was en op 70 jarige ouderdom ophou werk. Gedurende 2005 het Daan Hamman hom in die genealogie wêreld ingetrek. Hy het wyd nacorsing oor die nasate van a1b1c7d3e1f1 Stephanus Johannes VAN WYK * ± 1777 van die Tarka.Hy doen sy navorsing deur die ou familiplase op te soek en die einaars uit te vra oor die geskiedenis van die plaas. So het hy die plaas Vanwykskraal in die distrik van Tarkastad kon opspoor Hy bedryf die Webblad van die GGSA. na en is tans besig met intensiewe navorsing oor Die Van Wyks van Rehoboth in Namibië. Hy kon daarin slaag om hierdie van Wyk's na te speur tot by stamvader a2, Willem van Wijk.
Secretary

Robyn Templeton was born on 12 June 1969 at Blyvoorruitzicht Mine Hospital in Carletonville, the eldest daughter of Morton Charnley Howarth and Margot Louise Dowling. I matriculated at Carleton Jones High School in Carletonville in 1987. I have been working in the gold mining industry for the past 27 years - since the discovery of gold on the Witwatersrand in the late 1880s, every generation of my family has been employed by the mining industry! I am employed by one of the largest gold mining companies in the country and have extensive experience in the Payroll and Human Resources Department. John and I were married in June 1997.
I started my Family History research in 2008, with very little information and I have now have a substantial family tree! In my spare time, when work and genealogy allow, I enjoy cross-stitch embroidery and knitting.
Tesourier
Barend Jacobus (Banie) Engelbrecht, is gebore op 27 Mei 1954 in 1 Militêre Hospitaal, Voortrekkerhoogte (Thaba Tshwane). Hy bring sy skooldae in Bloemfontein deur en matrikuleer aan die Hoërskool Sentraal
einde 1971. Hy studeer aan die Banie EngelbrechtMilitêre Akademie (Fakulteit Krygskunde van Universiteit Stellenbosch) op Saldanha en gradueer in November 1975. Hy tree op 10 Desember 1977 in die huwelik met Rouvé Breedt, gebore 8 Desember 1956 in Heidelberg, Transvaal. Sy is die dogter van Jacobus van den Berg Breedt (dosent en dekaan by die Militêre Akademie) en Edith Carmen Smith. Hulle het een seun, Barend Jacobus. Rouvé het as onderwyseres gekwalifiseer; haar eerste pos was as spraak-en-drama-onderwyseres by Sweet Valley Primary in Tokai. Haar eintlike roeping begin toe sy as joernalis by die Weslander in Vredenburg begin werk, waarna sy suksesvol by verskeie ander koerante, eers in Kaapstad en daarna in Gauteng, haar passie as joernalis voortgesit het.Banie served as an instructor at the Military Academy, Saldanha. He accepted a post as Internal Auditor at Old Mutual followed by an appointment as Admin Manager in Pretoria. During this time he completed his Hons B Com degree at Unisa. He returned to the military in 1983 and served as an instructor in financial management and was promoted to various financial appointments in the SA Army, attaining the rank of colonel. He also had the privilege to serve under both Ferdie van Wyk and Daan Hamman from 1988 to 1993. After demilitarisation in 1998 he continued to serve in the Department of Defence. Banie furthered his education by enrolling for an M.Com degree in Financial Management at the University of Pretoria, which he obtained in 2008. He retired in 2014 in the post of Chief Director Budget Management. This was followed by a one year contract with the Department of Military Veterans where he served as the Chief Financial Officer.My belangstelling in genealogie kom 'n lang pad, maar krediet gaan aan my skoonpa toe ek en Rouvé hom gehelp het met sy navorsing oor die Breedts. My verkiesing as nasionale tesourier van die GGSA is 'n besondere voorreg. Akkuraatheid in familienavorsing is nie onderhandelbaar nie en so glo ek ook dat dieselfde van toepassing moet wees op die finansies van die GGSA.
Bykomende Lid

Francois Gerrit Muller was born on October 15 1943 in Bloemfontein. His parents were John Alfred Muller and Christina Johanna Sofia Naude. Gerrit, was their first child. In 1961 Gerrit passed matric andGerrit Muller was called up for extended military service. After military service he started work as an apprentice technician in the telecommunications engineering department of the Post Office in Bloemfontein. In 1963 Gerrit moved to Pretoria and began training at the Pretoria Technical College and qualified in 1965 as a communications technician. He met Hettie Wandrag in 1963 and got married 1967. Gerrit accepted a post at African Cables in Vereeniging in 1968. Here three children were born, two sons and a daughter. Meanwhile, Gerrit furthered his education by enrolling for a B.Com Degree as an afterhours student at the Potchefstroom University. He obtained his degree in 1972 and became assistant to the company secretary of Union Steel Corporation. In 1974 the family moved to Tzaneen where Gerrit accepted position as company secretary at Sapekoe. Sapekoe was a company that has grown tea and coffee in the high rainfall areas of South Africa. In 1997, the National Department of Health advertised a position for a chief director of finance. Gerrit applied and got the job and started working in 1998 in Pretoria. He was soon promoted to Chief Financial Officer of the Department and held the post until his retirement in 2008. "My interests are driven by my curiosity but also my appreciation of people and their activities.
So I need to know what is going on in my country as well as in the wide world with particular reference to the effect of political and economic developments. Another interest is to travel. New experiences in other countries and visits to interesting places gives me great pleasure. I like reading since I can remember. Genealogy as a hobby gives me great pleasure since it gives me insight into the family history at a particular point in time."
Additional Member
Margaret GundryMargaret Gundry was born on Christmas Eve 1943 in the Booth Memorial Hospital, Cape Town. It cost my father ₤10:9:6! I attended Rustenburg Girls School in Rondebosch from Std 1 to matric, travelling through
from Fish Hoek every day by train. I then qualified as a Radiographer at Groote Schuur Hospital. After I married George in 1965 (celebrated 50 years last year) we moved to the Transvaal and I left the medical world and joined a bank, then a construction company ending up as Accountant. I am now retired but work once or twice a week at the local Rotary Humanitarian centre where we sort books for schools.
My father was an amateur historian before the days of the Internet and after he died I inherited all his family documents and photographs – a real gold mine of information. My mother-in-law gave me all her papers too so I had a flying start when it came to sorting out the family history which I have worked on for the past 30 years.
On my mother's side I have Dutch (Blomkamp) and English (Stevens) ancestry while my father's family came from Lincoln (Fullalove) and St Helena (Wright). Quite a mixture.
I have travelled quite extensively but have packed away my passport as it is now far too expensive. Instead I make a point of learning something new whenever I travel locally. I love reading and have quite a large collection of South African books. Being an "old lady" I also enjoy knitting, crocheting and embroidery!
At home I have my own study and Genealogy and Family History is what I work on every day.