Visit the GSSA Google Earth Cemetery Initiative
Using Free and widely available software, you can explore GSSA cemetery locations live on line!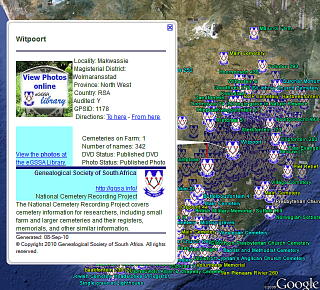 The project is maintained on its own page: GSSA Google Earth Cemetery Initiative
You will need a broadband connection and "Google Earth" software (which is available for free from Google Inc.) preloaded on your computer to view this. A free download is available from http://earth.google.com
You can click on the pop up box to view data about the cemetery record, and the page also indicates whether the cemetery information is available on DVD, or in the eGSSA Photo library, or both.
For further information contact Peter Moss