Besoek die GGSA Google Earth Inisiatief
Deur gratis en vrylik beskikbare sagteware te gebruik, kan u die ligging van die onderskeie GGSA begraafplase aanlyn besigtig.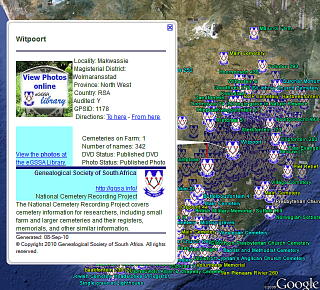 Die projek word instand gehou op sy eie blad
'n Breëband verbinding en die Google Earth program is noodsaaklik. Google Earth is gratis aflaaibaar vanaf http://earth.google.com
Kliek op die GGSA ikoon en u sal die beskikbare data vir die betrokke begraafplaas kan sien. Dit dui ook aan of die begraafplaas inligting op DVD beskikbaar is, in die eGGSA foto biblioteek of op beide.
Vir verdere inligting kontakThis email address is being protected from spambots. You need JavaScript enabled to view it.