Hoe om die GSSA Begraafplase op Google Earth te bekyk

Hoe om toegang tot die GGSA Begraafplaas Inisiatief te verkry deur Google Earthâ"¢ te gebruik:
• U benodig 'n moderne rekenaarstelsel met breëband internet toegang of soortgelyke fasiliteit
• Laai die Gratis Google Earth ™ programmatuur af vanaf http://earth.google.com/
• Klik op die lêer GSSA Google Earth Files (191.09 kB) om die GGSA begraafplase op Google Earth™ te sien.
Wat sal die kaart vertoon?
Die GSSA Google Earthâ"¢ Kaart open met 'n hoë vlak aansig van Suidelike Afrika met 'n GGSA-ikoon om die ligging van alle GGSA begraafplase aan te dui. Die standaard eienskappe van Google Earthâ"¢ kan gebruik word om in of uit se zoem, die beeld te roteer of na verskeie Plekmerke of koördinate te "Vlieg". Plekke van belang soos op die verstek kaart van Google Earthâ"¢ aangetoon, kan ook met navigasie help.
Vir meer inligting hoe om Google Earthâ"¢ te gebruik, verwys asb na die Google Earth Dokumentasie.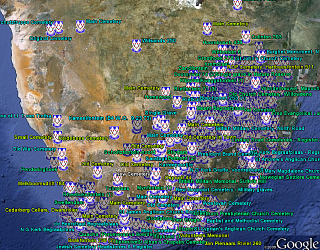 Begraafplaasnaam
Langs die standaard GGSA Wapen sal die Begraafplaasnaam verskyn.
Deur in te zoem in die algemene area van belang sal die ikone uit mekaar gaan en die Begraafplaasnaam sal ook verskyn. Indien daar meer as een begraafplaas op 'n spesifieke plaas is, sal die onderskeidende syfers 1, 2, ens ook verskyn.

Kleurkodes van die Begraafplaasname
Die kleurkodes wat vir die Begraafplaasname gebruik word, is soos volg:
| | |
| --- | --- |
| Verwerk en Gepubliseer op DVD en Foto Album: | Helder Blou |
| Verwerk en Gepubliseer slegs op DVD: | Helder Groen |
| Gepubliseer slegs op Foto Album: | Geel-groen |
| Nog nie verwerk nie: | Wit |
Die Opwip Venster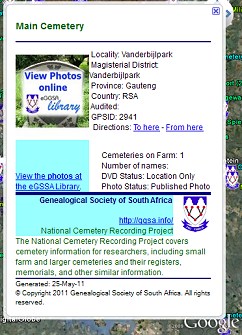 Deur op die GGSA ikoon te klik sal 'n opwip venster met die volgende inligting verskyn:
• Begraafplaas titelinligting: (Plaasnaam, Ligging, Magistraatsdistrik, Provinsie, Land)
• Aantekeningstatus (wissel van "Gepubliseer op DVD & Foto" tot "Nog nie verwerk nie"
• Aantal name in Begraafplaas (op DVD)
• Militêre belang merker
• Web-skakel na die Foto Album wat deur die eGSSA bestuur word (indien foto's van hierdie begraafplaas beskikbaar is)
Hoe vind ek 'n Begraafplaas waarin ek belangstel?
Eienskappe tans beskikbaar:
• Die standaard pleklys word op die Google Earth bladsy vertoon onder die "Places" sybalk. Dit toon die GGSA begraafplase volgens Land en Provinsie en kan vir name van belang deursoek word. 'n Onderafdeling verskaf meer besonderhede omtrent die begraafplaas se ligging. 'n Enkele klik laai 'n opwip kassie met die nodige inligting.
• Vir verdere hulp met begraafplaasname en -status, verwys asb na die Excel lêers op die Begraafplaasprojek se Hoofblad. Hierdie lêers word maandeliks bygewerk.