2019 NUK/NEC
PRESIDENT VAN DIE GGSA - SIOMON DU PLOOY
Simon Du Plooy is op 2 Jan 1951 as derde seun (en een jonger suster) gebore te Bethulie in die Suid-Vrystaat waar sy ouers (Simon Johannes Du Plooy & Maria Cornelia Wiegand) op die familieplaas Brakfontein (tussen die sameloop van die Oranje & Caledonriviere geboer het. Hy ontvang sy skoolopleiding aan die Hoerskool Pellissier op Bethulie, daarna weermag en vanaf 1971-1976 ingeskryf vir 'n B.Sc graad in Bourekenkunde aan die UOVS in Bloemfontein. Hy was egter nooit in 'n profesionele Bourekenaarspraktyk werksaam nie maar het die meer praktiese rigting verkies en reeds as student by 'n boukontrakteur begin werk. Op universiteit ontmoet hy sy latere eggenoot Chrisda Barnard en tussen klasdraf, werk en kuier was daar ook nog tyd vir ontspanning en in 1974-75 draf vir hy vir Kovsies se eerste rugbyspan uit. In 1977 het hy na Potchefstroom verhuis en stig in 1988 saam met 'n vriend 'n konstruksiemaatskappy wat tot 2012 aktief was. Na die onteiening van die plaas vir die Gariepdamskema het sy pa, ook Simon (1911-1982), 'n register van die eerste eienaar, Simon Johannes du Plooy (1805-1885) se nageslag saamgestel. Dit het sy belangstelling geprikkel en in 1983 sluit hy by GGSA aan. Sy ma was 'n kleindogter van 'n Duitse immigrant Heinrich Wiegand (1839-1901) en sy eerste werk was 'n publikasie oor die Wiegand-familie wat in 1987 verskyn het. Tans werk hy saam met sy vangenoot Andre du Plooy op die Du Plooy familie en fokus op die hele nageslag van Simon Pieters Plooijer x Catharina Koopman hoewel die ander du Plooy familie (Cornelis nageslag) se data ook aangeteken word met erkening aan Herman du Plooy wat 'n stewige basis daargestel het.
VISEPRESIDENT - GERRIT MULLER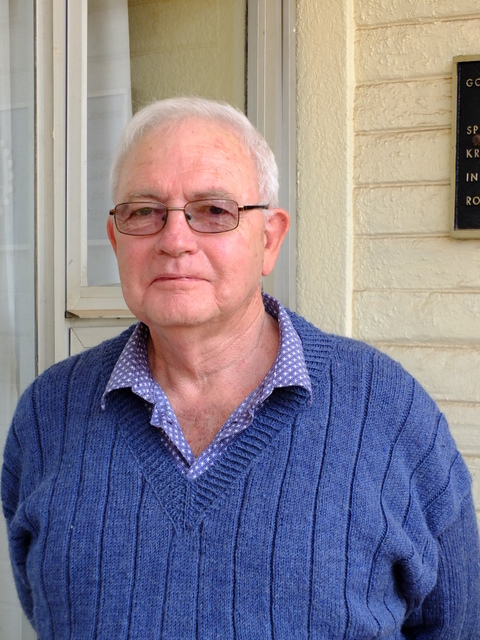 Francois Gerrit Muller was born on October 15 1943 in Bloemfontein. His parents were John Alfred Muller and Christina Johanna Sofia Naude. Gerrit, was their first child. In 1961 Gerrit passed matric and Gerrit Muller was called up for extended military service. After military service he started work as an apprentice technician in the telecommunications engineering department of the Post Office in Bloemfontein. In 1963 Gerrit moved to Pretoria and began training at the Pretoria Technical College and qualified in 1965 as a communications technician. He met Hettie Wandrag in 1963 and got married 1967. Gerrit accepted a post at African Cables in Vereeniging in 1968. Here three children were born, two sons and a daughter. Meanwhile, Gerrit furthered his education by enrolling for a B.Com Degree as an afterhours student at the Potchefstroom University. He obtained his degree in 1972 and became assistant to the company secretary of Union Steel Corporation. In 1974 the family moved to Tzaneen where Gerrit accepted position as company secretary at Sapekoe. Sapekoe was a company that has grown tea and coffee in the high rainfall areas of South Africa. In 1997, the National Department of Health advertised a position for a chief director of finance. Gerrit applied and got the job and started working in 1998 in Pretoria. He was soon promoted to Chief Financial Officer of the Department and held the post until his retirement in 2008. My interests are driven by my curiosity but also my appreciation of people and their activities. So I need to know what is going on in my country as well as in the wide world with particular reference to the effect of political and economic developments. Another interest is to travel. New experiences in other countries and visits to interesting places gives me great pleasure. I like reading since I can remember. Genealogy as a hobby gives me great pleasure since it gives me insight into the family history at a particular point in time."
SEKRETARIS - CATHY POTGIETER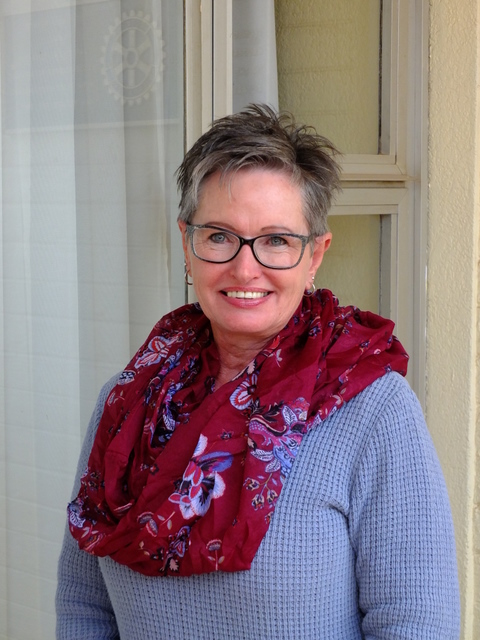 Cathy Potgieter (gebore Elsie Cathrine van der Merwe) is gebore op Dinsdag 25 Feb 1958 in die destydse Salisbury, Rhodesie, deesdae beter bekend as Harare, Zimbabwe. Ma Helen Johanna (gebore Heath) was van Engelse afkoms en Pa Cornelius Johannes van der Merwe was Afrikaans sprekend, afkomstig van die Vereeniging omgewing. My Ma is oorlede in 'n motorongeluk toe ek 3 jaar oud was in Rhodesie en ek en my Pa het toe teruggekom Suid Afrika toe. Ons het by my Ouma en Oupa gebly totdat my Pa weer getroud is.Ek het skool gegaan in die Vereeniging omgewing, later in Ladysmith vir omtrent 5 jaar en in 1975 gematrikuleer aan die Hoerskool Drie Riviere in Vereening. Ek werk al die afgelope plus minus 30 jaar by ArcelorMittal (vroeer bekend as Iscor) aanvanklik as Finansiele Klerk, Sekretaresse en later jare tot nou, as SHERQ Stelsel Administrateur in Vereeniging ten op sigte van Veiligheid, Gesondheid, Omgewing en Kwaliteitstelsels. My man Hendrik Potgieter (bynaam Pottie) werk ook al 41 jaar by ArcelorMittal, Vanderbijlpark as Metallurg.Al vier kinders is selfstandig en uit die huis en drie van ons vier dogters is getroud. Hulle beroepe wissel van Aankoper (MassMart), Oogkundige, Ge-oktieerde Rekenmeester (NTT Toyota), Onderwyseres (Francis Vorweg). Huidig het ons vier kleindogters en een kleinseun.Ek hou daarvan om kreatief te wees en breiwerk, naaldwerk te doen, asook van tuinmaak. Ek en my man reis graag en gaan eersdaags met pensioen. Dit gaan 'n baie groot ervaring wees want ons beplan om te verhuis uit die Vaaldriehoek na Jeffreysbaai toe. Dan gaan daar baie tyd wees vir al die familie navorsing wat ons beplan om te doen. Ek het nog baie navorsing om te doen ten opsigte van my Heath en Van der Merwe  families en kan nie wag om meer tyd te he om daaraan te werk nie.Vroeer jare toe die kinders klein was en tennis gespeel het, was ek Sekretaresse van die Vaaldriehoek Tennisakademie, later die Vaaldriehoek Stapklub en die afgelope twee jaar Sekretaresse by die Vaaldriehoek tak van GGSA.
TESOURIER - ELLEN HARMSE
Ellen HARMSE nee RUSCH, is gebore op 13 Junie 1950 in Windhoek, in die destydse Suid-Wes-Afrika. Volgens Duitse tradisie is ter verwelkoming by die hospitaal 'n pienk vlag gehys en 'n kennisgewing in die plaaslike koerant geplaas! My ouers is Franz *1908 Windhoek, Duits-Suid-Wes-Afrika x Else KAPPEL * 1911 Berlyn, Duitsland. Oupa Ernst Julius, die stamvader, was een van die eerste 41 Schutztruppler (Duitse beskermingsmagte) wat vrede tussen die Hereros en Namas moes bewerkstellig en het in Januarie 1890 in Namibia voet aan wal gesit. Vanaf 1970 woon sy in Johannesburg en Kempton Park waar sy in die konstruksiebedryf en as dosent by volwasseonderrig vir die Departement van Onderwys tot 1995 werksaam was. 1973 is sy getroud met Neels Harmse *1939 Schweizer Reineke en hulle het twee dogters, Benita en Anja en een kleinseun Tristan. Sy het agtergekom dat daar nog nie veel navorsing oor die HARMSE's gedoen is nie, en haar nou daarmee besig. Sy het konsepsamestelling in die boekery van die Erfenisstigting en by Gisa geplaas vir kommentaar en om jaarliks met die nuutste inligting aangevul en vervang te word. Ellen organiseer elke jaar die toer na die verskillende argiewe. Van 'n klein begin waar aanvanklik net na die Wes-Kaap Provinsiale Argief (voorheen KAB) gegaan is het dit gegroei, soveel so dat daar nou ook toere na die Vrystaat Provinsiale Argief en ook na die Nasionale Argief in Pretoria organiseer word. Met die oog op die 200-jarige viering van die aankoms van die 1820 Setlaars word 'n toer na die Oos-Kaap in die vooruitsig gestel.
ADDITIONAL MEMBER - MARGARET GUNDRY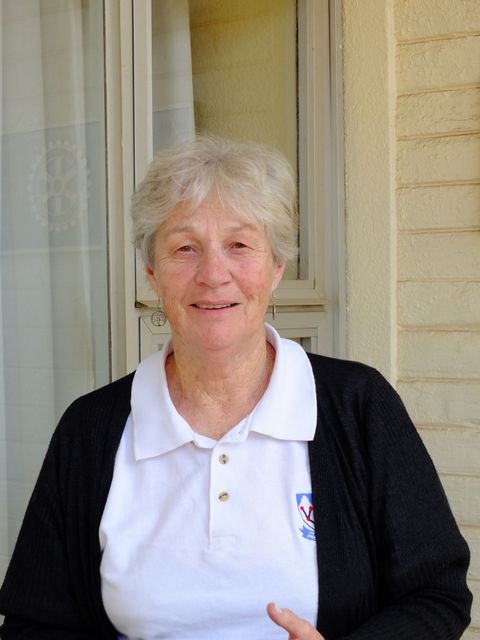 Margaret Gundry was born on Christmas Eve 1943 in the Booth Memorial Hospital, Cape Town. It cost my father ₤10:9:6! I attended Rustenburg Girls School in Rondebosch from Std 1 to matric, travelling through from Fish Hoek every day by train. I then qualified as a Radiographer at Groote Schuur Hospital. After I married George in 1965 (celebrated 50 years last year) we moved to the Transvaal and I left the medical world and joined a bank, then a construction company ending up as Accountant. I am now retired but work once or twice a week at the local Rotary Humanitarian centre where we sort books for schools.
My father was an amateur historian before the days of the Internet and after he died I inherited all his family documents and photographs a real gold mine of information. My mother-in-law gave me all her papers too so I had a flying start when it came to sorting out the family history which I have worked on for the past 30 years.
On my mother's side I have Dutch (Blomkamp) and English (Stevens) ancestry while my fathers family came from Lincoln (Fullalove) and St Helena (Wright). Quite a mixture. I have travelled quite extensively but have packed away my passport as it is now far too expensive. Instead I make a point of learning something new whenever I travel locally. I love reading and have quite a large collection of South African books. Being an old lady I also enjoy knitting, crocheting and embroidery!
At home I have my own study and Genealogy and Family History is what I work on every day.

2019 NEC Committee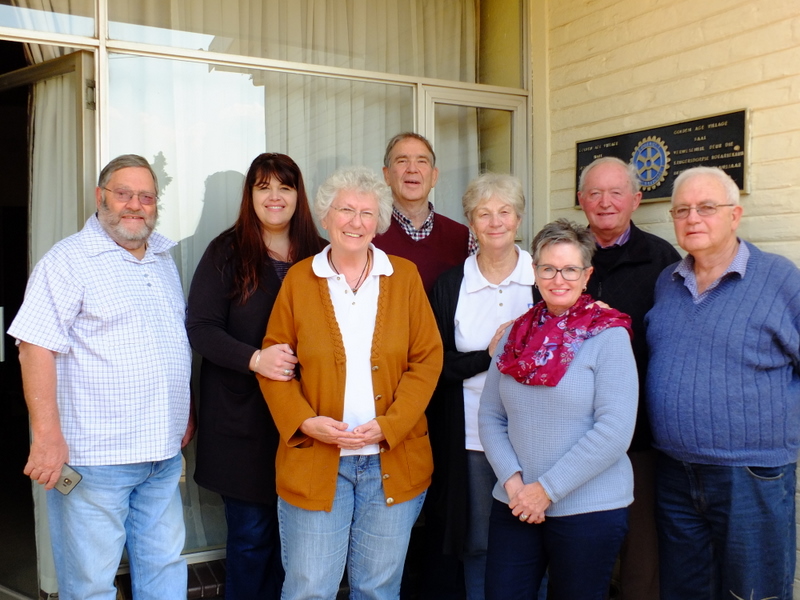 From left to right: Dennis Pretorius, Germaine Smith, Ellen Harmse, Simon du Plooy, Margaret Gundry, Cathy Potgieter Peter Moss, Gerrit Muller.