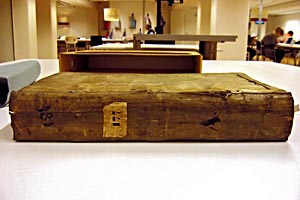 Corney Keller het foto's van die skip rekening (scheepsoldijboek) vir Isaack Dalgue, wat op die skip Nesserak aan die Kaap aangekom het in November 1713, aan die groeiende versameling van hierdie dokumente wat hy handhaaf bygevoeg. Dit is beskikbaar op die eGGSA webwerf: Rekeningen uit de Scheepssoldijboeken 1662-1805..
Hierdie boeke bevat besonderhede van al die manne en al die transaksies op 'n enkele uitgaande reis. Elke keer 'n skip vir die ooste vertrek het, was 'n nuwe grootboek in duplikaat opgestel. Toe die skip Batavia, in Indonesië, bereik is 'n afskrif (skaduwee-kopie) daar gedeponeer en die ander afskrif (meester-kopie) het na Nederland teruggekeer. Dit was die kopieë wat tuis gekom het wat oorleef en is nou in die Nasionale Argief in Den Haag beskikbaar.
By die 18de eeuse dokument van Dood Kennisgewings in die Kaapse Argief, op die bladsy waar Dalgue se dood aangeteken is, kom daar 'n nota deur Colin Graham Botha bygevoeg: Vide wills of the Orphan Chamber vol 11 no 29 of 1795, Will of Isak Dalque (died 6.4.1759) and Sara van Wijk wherein he states his proper name was Johannes Augustus Dreyer.