The Familia / Best Article 2018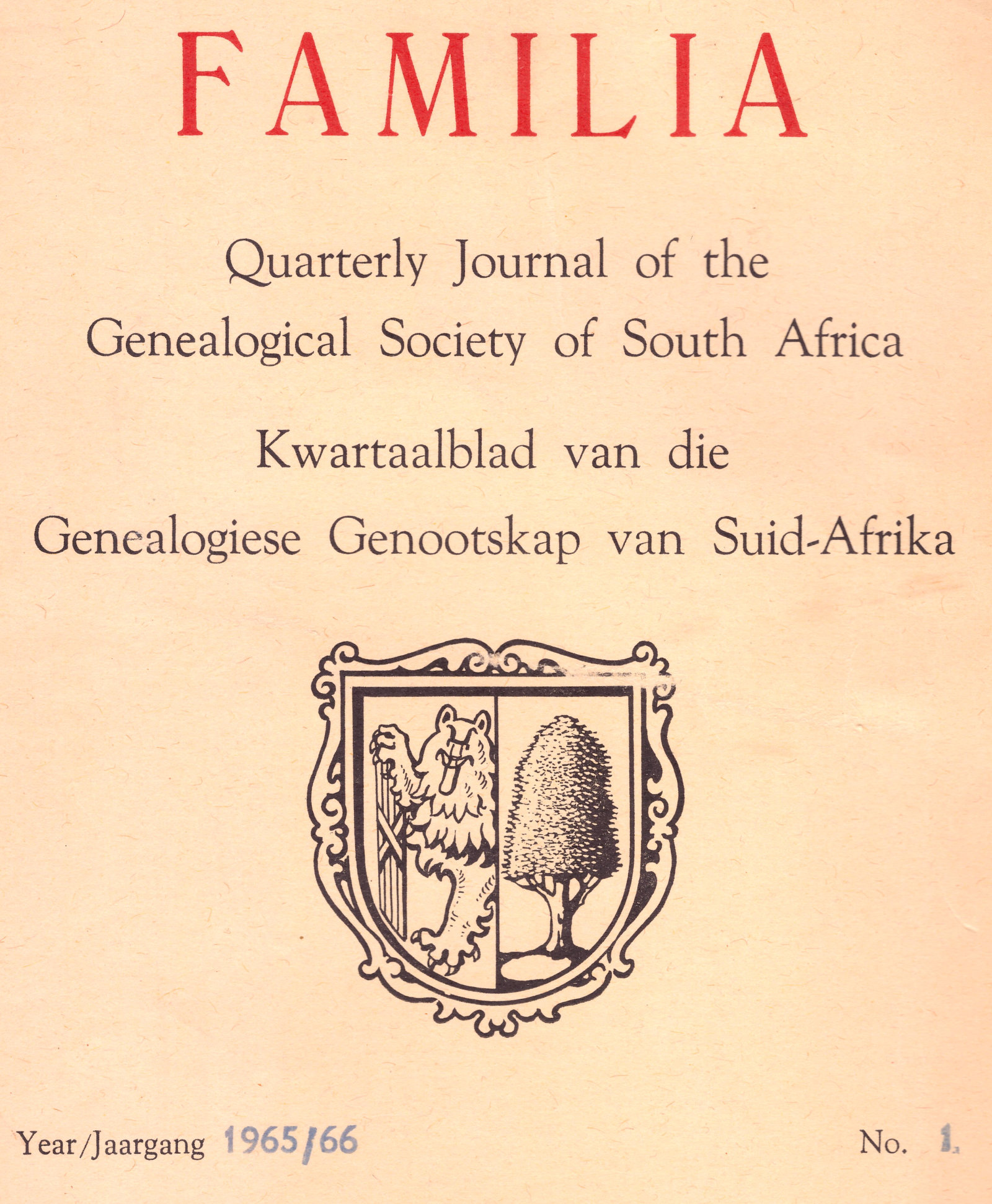 The Familia / Best Article 2018
The Familia is the Quarterly Journal of the Genealogical Society of South Africa. On the photo above, the first cover of the Familia published during 1965/66 can be seen. The Northern Transvaal Branch of the GSSA has since the early 2000 presented a yearly prize, available for the best article published during a particular year.
The criteria by which such an article must comply includes the following:
Does the article deliver a significant contribution to Genealogy; is it new information?
Is the article professionally set up with good source references etc.?
Does it read easily; is the presentation interesting; engaging and a good balance between readability and academic correctness maintained?
The Panel's Comment: It's a good, well laid out article that reads well and is abundantly illustrated with photos and which contains new information about the family. The author's references refer to bibliographic requirements and the genealogical notations which is required by Familia. In addition to meeting all the criteria as required, it is one of the few articles that provide sources as far as criteria is concerned, research, namely, that genealogists can follow it up and check.
In 2018 the best article in Familia was dedicated to Charlie Els for his article Die Verstoteling. One of the judges had the following to say:
The theme of this article is refreshingly original and the style of writing captivates the reader. Although the theme of leprosy is seen in the context of the writers lost family member, the cause of the condition of the illness together with the source of involved stigmas and the broader implications of infected individuals and their families throughout the ages are detailed and treated with empathy.
The write makes the seeking genealogist indirectly conscious of yet another source of looking for an absent, lost or disappeared family member the records of Leprosy Hospitals, psychiatric facilities of similar instances whereby many a genealogist has never thought of searching at. The genealogist is also subtly challenged to verify all information through consulting primary sources, thus to avoid incorrect assumptions in regard to place of death, cause of death of a person on incorrection information that has been generated by earlier generations in an attempt to cover up any shamefulness or stigmas.
Click here to download the article
This is what you can expect on your journey to find, as soon as your interest in Family Research has been aroused.