West Gauteng Branch
Located on the "West Rand", the West Gauteng branch currently has its home at the Memorial Hall, Krugerstraat 1, Krugersdorp, and draws members from as far as the East Rand to the far West Rand but primarily from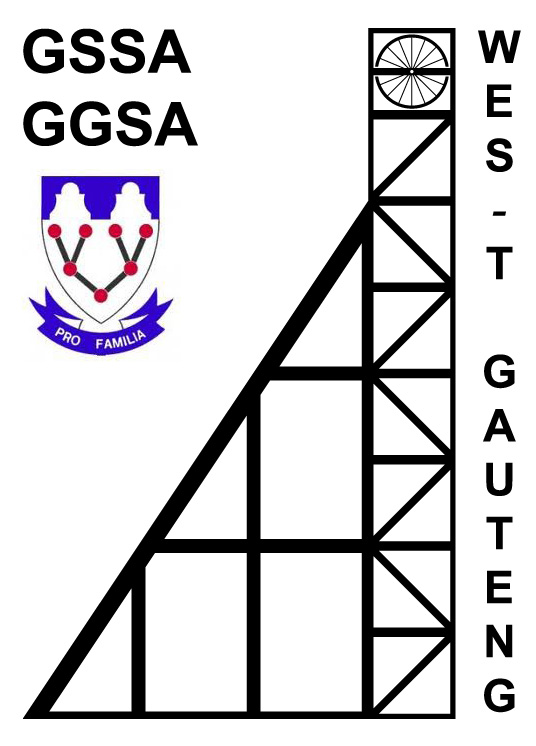 the Roodepoort, Krugersdorp and Randburg areas – but all are welcome to join us. We meet every third Saturday of the month at 14h00 with the exception of the month of December when there is no meeting.
The branch has many experienced members who make themselves readily available to assist fellow members of all experience levels outside of meeting days. We are generally an e-mail or phone call away and draw on one another's expertise to assist in resolving members unique research problems as they arise.
West Gauteng branch is the home of e-SAGI (formerly the Rinken-de Wet database) and you can be sure to get assistance from Lucas Rinken in exchange for some of your information! The database currently boasts in excess of 800 000 names, and is expanded daily. Other projects we are involved in are: the Family Bible Project (photographing family bibles with genealogical content), The Cemetery Recording Project (photographically recording headstones in cemeteries), the Funeral Leaflet Project (digitally recording information from funeral leaflets), to name but a few. Members are also involved in the transcription of the 1984 Census as well as Shipping Lists and numerous collaborations in tandem with their own research. We encourage members to be involved in all aspects of genealogical research, as participation has great spin-off for the Society and members alike.
The branch normally has a small but constantly growing library which is available to members on meeting days from 10am (and at other times by arrangement if necessary). With the recent move and the fact that a space for the library is not yet available, the collection of books is in storage until further notice.
Committee members are available to assist with queries for an hour before the branch meeting. Click on the image to enlarge.
L to R: Hennie Van Aswegen, Marie De Lange, Kriek Fourie, Richard Wolfaardt, Neels Coertse, Robyn Templton, Giel Nel, Miets Rinken & Lucas Rinken. Members and visitors alike are encouraged to network over refreshments after the presentations at the meetings, to share experiences and learn more about this fascinating hobby/passion.Visit our Branch Blog at
http://westgssa.blogspot.co.za/
for more information about topics of previous meetings, branch activities. This blog is no longer updated as the branch decided not to duplicate information. All email messages should be addressed to a committee member in the contact us menu to the right from where they will be redirected to the responsible committee member for the necessary attention.
For those who prefer, our postal address is:
P.O. Box 584
Honeydew
2040
There are no articles in this category. If subcategories display on this page, they may contain articles.